What is Audio Equalizer?
Equalizers are mostly used for music or listening to movies to help boost their bass or any other Audio property. They can also change the sound profile of audios. Audio equalizers give us total tonal control.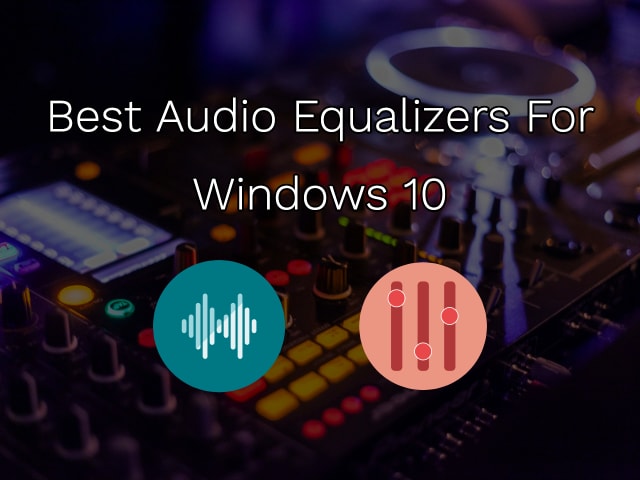 Audio equalizers are of different types and become more important if you listen to music frequently. With these equalizer apps on PC, you can choose presets suitable for specific music genres or create your custom equalizer preset on your Windows 10 Computer.
Audio is a must-have utility if one wants to enhance their listening experience significantly on their quality audio hardware and can also enable you to make the most out of the crappy ones as well.
Windows 10 PC comes with its audio enhancer settings therefore to access they follow the following steps. I have also listed some of the top-rated free equalizers for PC after this section.
Go to run-mmsys.cpl. This will open the sound properties.
Choose the speaker of your choice and press the properties icon/button to open the properties window.
Go to the enhancement tab .here you can enable and disable some enhancements. Enhancements in Windows 10 PC are limited, that is why we require the above given third party enhancers/equalizers.
Advantages
The ability to be able to separate instruments to some extent to listen to some individual parts has become very handy to frequent users such as musicians.
Equalizers boost high frequencies.
It is easy cheaper to use audio equalizers on windows 10.
The user can adjust the music to much their tastes and listening situations.
Disadvantages
The possibility of getting used to certain extreme frequency bands may affect other people around you who are not used to enhancements.
Best Equalizer For Windows 10 PC
Let's see some of the top Windows 10 equalizers and download them for free.
1. EqualizerPro
Equalizer Pro provides all the enhancements for the media players and other installed applications, and it does not interfere with your system sound. It contains features such as 20 presets for the soundtracks and 10 band equalizers that are not much for hardcore.
Equalizer pro has highlights that include:
20+ equalizer presets.
Bass boost effect.
Simple and easy to use UI.
Pre amplified volume control.
2. Fx-sound
FX Sound is an audio enhancer well known for its skills of how it saves the users from complexity. It is easy to understand. Therefore, it lets the user tune their sound with simple tunable. It offers 10 bands ranging from 110 Hz to 15 kHz to be used however; it is not adequate for extreme audiophiles.
Advantages
Has a volume boost without distortion
High fidelity sound.
It has a personalized listening experience
Disadvantages
It is expensive
The demo version is limited 
3. Graphic equalizer studio
It is a more professional-grade application that is used at a cost. It turns the sounds of various sources into a more consistent state. It works along with real-time audio processing that provides a comprehensive graph that helps to tune the sound further. In Graphic Equalizer Studio, when you vary the q-factor, the overall tone quality changes to create a finer, softer, and more blended sound.
Features
Mp3 player/refresher
Correlations meter
Sync to loop feature for specific evaluation of digital audio files.
Q-factor for separate fine-tuning configurations.
Programmable Frequency selection with independent band calculator programmable.
4. Chrome Audio Enhancer Extensions
We have different types of chrome extensions that can be used to enhance the audio for online sounds example, online music, youtube, opera mini, etc.
Examples of Chrome Audio Enhancer Extensions:
1. Audio equalizer by dev app.
It lets you control the volume beyond the provided system controls. It comes with presets such as vocal booster, bass booster, and high-frequency amplifier.
2. Eq audio equalizer by dev audio
Some video clips and music tend to have low volume while playing online. Therefore this chrome extension will help enhance their audio. The extension will improve the sound quality of your audio more than the maximum volume provided.
5. Boom 3D
Audio equalizer specializes in producing a rich spatial sound, so it is highly recommended for the folks. Boom 3D is an audio enhancer of which the preloaded presets are its strength, but it does it very cleanly, and with a modern UI, so you are less likely to be found lost while finding the best tune. Boom 3D also helps with voice control with it you get the advanced audio player and access around 20000 local and international radio stations.
Features of Boom 3D.
Volume booster
Apps volume controller
Advanced audio player
Intensity slider
Radio stations
Magic 3d surround sound
Band equalizer and presets
6. Equalizer APO
It is a graphic equalizer for windows 10. It is introduced by windows vista and implemented as an audio processing object (Apo). Equalizer APO entirely free hence becomes the hallmark of audio equalizers.
Features
Almost lag-free.
Modular graphical user interface.
The low strain on the CPU.
Works on any number of channels.
7. Breakaway audio enhancer
It is a pro tool Breakaway audio enhancer, which provides distortion-free transient control making tunes sound punchier and louder. It is known to be not an ordinary audio enhancer but a protocol that has the ability to enhance audio, videos, and games.
Advantages
It can automatically adjust volumes dynamics and spectral balancing.
It can correct song-to-song volume shifts and overdrives.
Features
Multiple look-ahead peak limiters.
Multi-band dynamics processing
Makes tunes sound louder and punchier.
Automatically adjusts volume dynamics and spectral balancing.
Has some professional technology used by DJs, radio stations, and webcasters
Audio equalizers are essential to users who frequently listen to music. Each music has its settings of volume; therefore, the need for an equalizer for each tune is different. Audio equalizers are known to give a better experience on the quality of sound.